Joseph and I met at Vanderbilt. He was the boy from Memphis elected our student body president. I was the girl from Nashville. Since a near-fatal car accident almost 25 years ago, I'm usually also described as the woman in a wheelchair.
Many try to define me by my limitations. Joseph has always realized that I don't have any.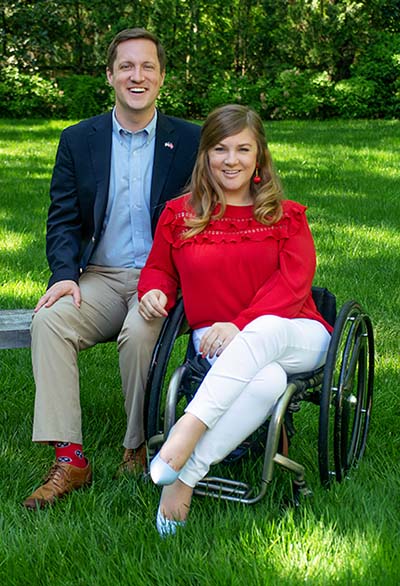 After we graduated from Vanderbilt, I spent a year working with children with HIV in rural Africa. Returning to Nashville I enrolled at Vanderbilt Law School and Joseph and I reconnected. He was teaching high school at Whites Creek in North Nashville. We would stay up late  – he grading papers and devising elaborate ways to engage his students in history and civics – and me, studying litigation, torts, contracts.
In those early days of our relationship I was drawn to Joseph's deep compassion.  He cared so much for his students, pouring his whole life into their futures. While many of his students had difficult economic and family circumstances, he created an environment that challenged them to believe in high expectations for themselves. He believed in a better future for his students, even when they didn't always believe in that themselves.
After teaching, Joseph also enrolled at Vanderbilt Law School, where he studied Constitutional Law.  It was his love of our country's freedoms and liberties that led him to begin working at a public interest constitutional law firm, defending the First Amendment and holding the government accountable to our founding documents.
Last year, when Joseph was first asked to run for State Representative, we hit our knees in prayer.  We knew this wouldn't be an easy road, and it would take the sacrifice of our whole family. We also knew that walking together, in faith, we would find the strength to answer this call to serve others.
Joseph is a man of deep faith, deep humility and an unrelenting work ethic.  Whether it is caring for me or our two young boys, our clients, an elderly church member, a special needs neighbor, one of his former students, or now the people of District 56- Joseph is a servant-leader who puts the needs of others before his own.  As your representative, no one will work harder or more ethically to steward our state's resources and to shape a brighter future for our state's children.
It is my great honor to ask you to vote for my husband, Joseph Williams, on August 2nd to serve as our State Representative.
Sincerely,
Palmer